Sound
Phantomrest is very fortunate to have the generous expertise and support of Mr. Eric Chiu of Synthax Hong Kong and Mr. Max Holtmann for the sound testing of Phantom shoulder rest in a professional sound studio.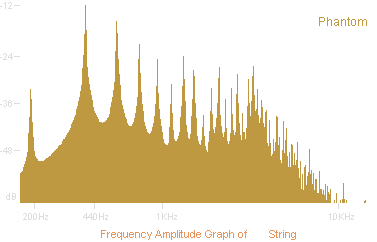 Synthax Hong Kong is the Hong Kong customer support branch of Germany's RME, a High-end Digital Recording Solution Company. Mr. Max Holtmann is a Tonmeister (music recording specialist) from Germany. He has collaborated with internationally renowned artists such as Krystian Zimerman, Andras Schiff, and Rosamunde Quartett.

Below are the equipment and set up used by Mr. Holtmann and Synthax Hong Kong for our sound test.
DPA 4006 Omni-directional microphone
RME Micstasy-M Microphone Preamplifier
RME HDSP MADI computer interface
Merging Technologies Pyramix
VB Audio Frequencies Analyzer
RT60 of recording room <0.2

Please click here to listen the sound booth
(Comparison between Phantom shoulder rest, conventional bridge type shoulder rest and without shoulder rest)

Tonal Difference
The following video illustrates the tonal difference between using the Phantom Adjustable and conventional bridge-type shoulder rest. Tested on a Joseph Rocca violin by professional violinist Andrew Ling in a casual setting. Judge it yourself!
* Recommended to view in 720p mode (higher audio quality) and using high quality headphones.
Phantom violin shoulder rest
's patented fitting design minimizes the shoulder rest's contact to vibrational significant areas of the violin, therefore allowing the violin to vibrate to its fullest potential and thus producing the most natural and fullest sound. For the violinists who normally prefers no shoulder rest, Phantom
violin shoulder rest
offers better shoulder and neck support and violin stability, while maintaining the freedom of movement and better sound. For the regular shoulder rest users, Phantom
shoulder rest
offers significant new freedom of movement and ease of playing, as well as tremendous tonal advantages while maintaining shoulder support . Although Phantom shoulder rest is a very
comfortable shoulder rest
, keep in mind that just like changing strings or bow, phantom
shoulder rest
will take some time to get used to, in order to fully use the shoulder rest to its full advantage.